ABOUT
DANCING HAMMER
Crafting With Soul For Over 25 Years
ABOUT
DANCING HAMMER
Crafting With Soul For Over 25 Years
The Dancing Hammer Story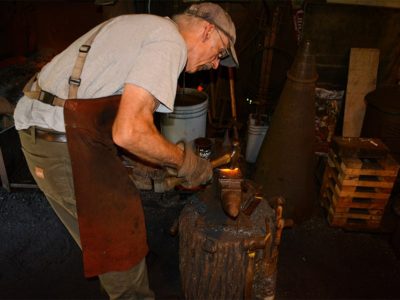 The Dancing Hammer is not your typical smithy or metal shop. You are greeted outside by masses of rusted and peeling metal parts and shapes—sitting in piles, sticking in the ground and hanging from the roof and trees along the garden next to this welcoming shop. Inside, you'll find the usual forge, fire, old anvil and racks of hammers and tongs, but there are also myriads of metal shapes adorning the walls and ceiling and filling tables and shelves. It is a place where metal is celebrated in all its forms. Inspiration is in the air, and new projects are constantly taking shape.
John's passion for metal all started in the early 1970's when he enrolled at the Turley Forge School of Blacksmithing in Santa Fe, New Mexico and fell in love with hot steel for the first time. A few years later he took his appetite for this ancient craft to Old Sturbridge Village, an outdoor museum of early 19th century rural New England life, where he honed his skills in historical costume in a traditional blacksmith shop with bellows and a massive brick forge. In the 1980's the Higgins Armory Museum in Worcester, Massachusetts beckoned him with its world famous collection of historical arms and armor. He joined the staff and later became the Director.
Finally, in the mid 1990's he moved his young family to an old 18th century farmstead in nearby Spencer and set up his own shop. The Dancing Hammer was born and for more than 25 years there, under a giant old ash tree (Sorry, Longfellow–not a chestnut!), the anvil has been ringing and the metal piling up! As the forge has grown, so have the commissions which continue to excite and challenge John as his skill and artistry expand and evolve.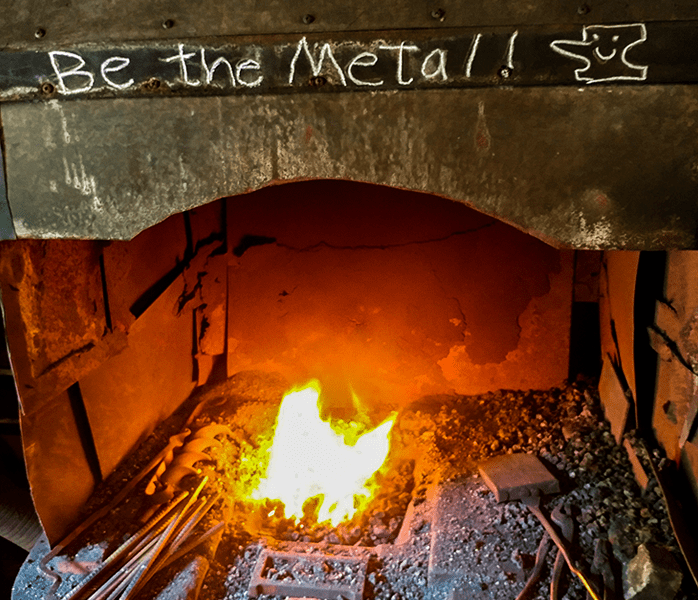 John savors every encounter with metal and every opportunity to craft something new in this amazing material. His favorite shop expression is "Be the Metal" because it gets to the heart of his approach: Don't just deliver hammer blows, but rather feel how the metal changes with each blow and where it wants to move. And finally, become the metal itself and get in the flow with your medium.
John is in his shop regularly and welcomes visitors to his shop and showroom. Please call or email ahead to check on his schedule. See a shop that is as unique as the products that emerge from it and witness a passion for hot metal that is contagious!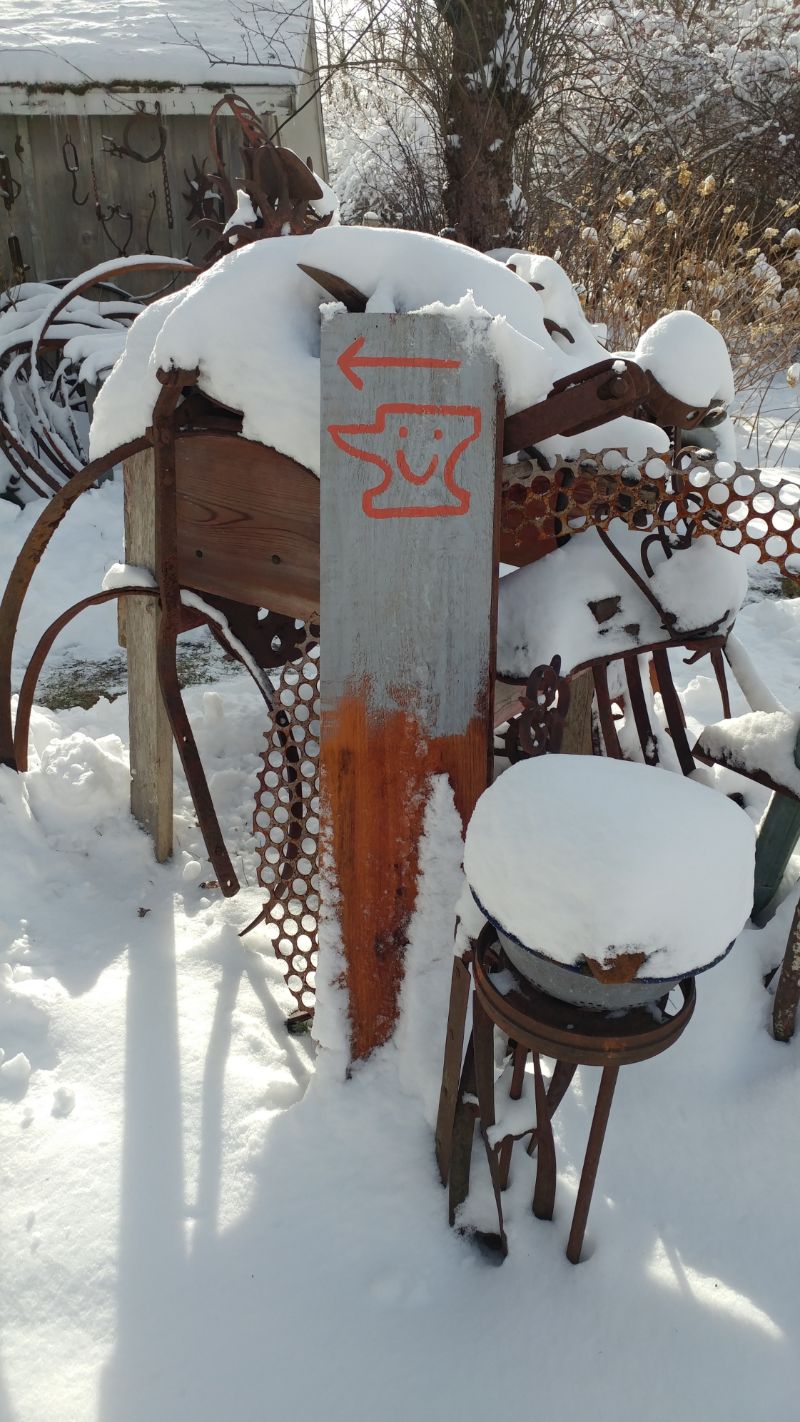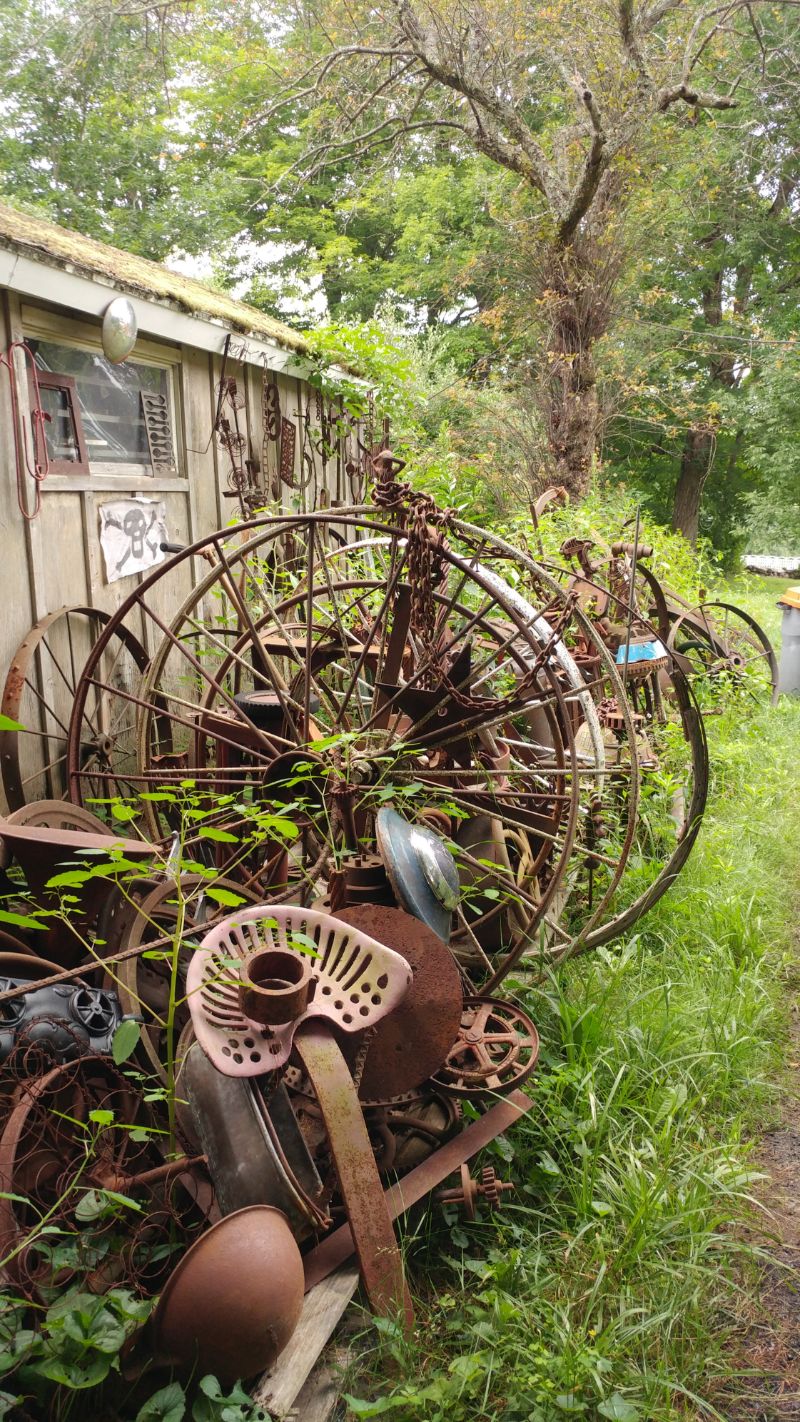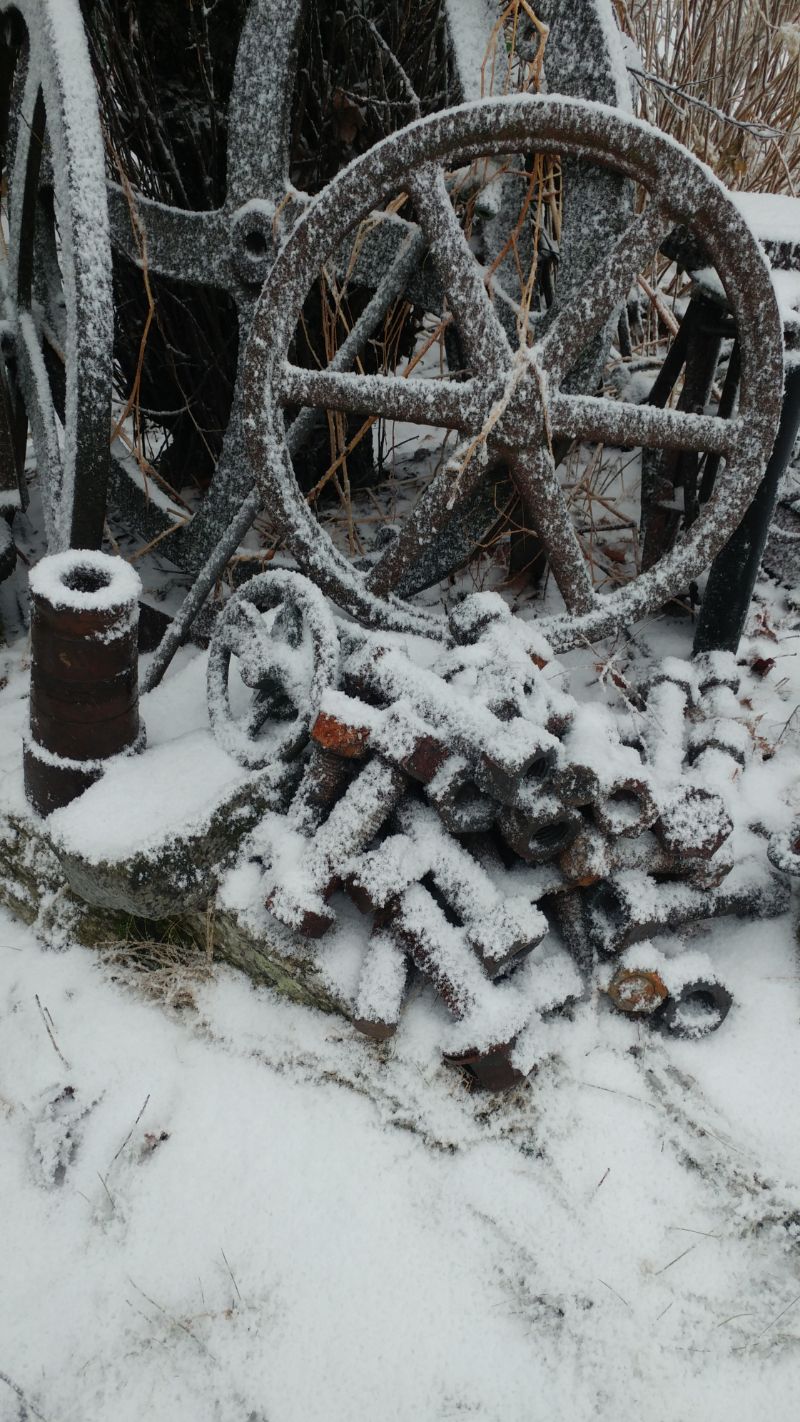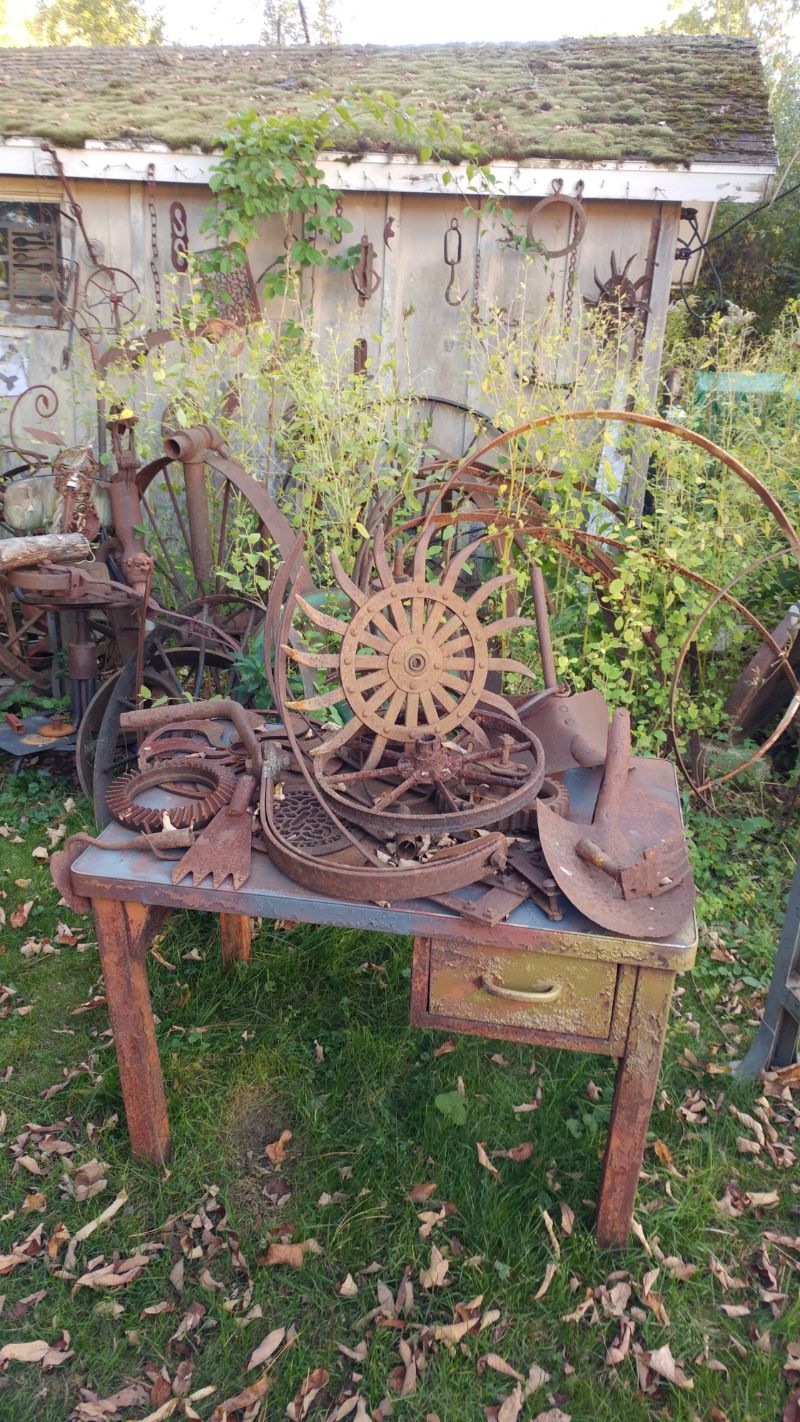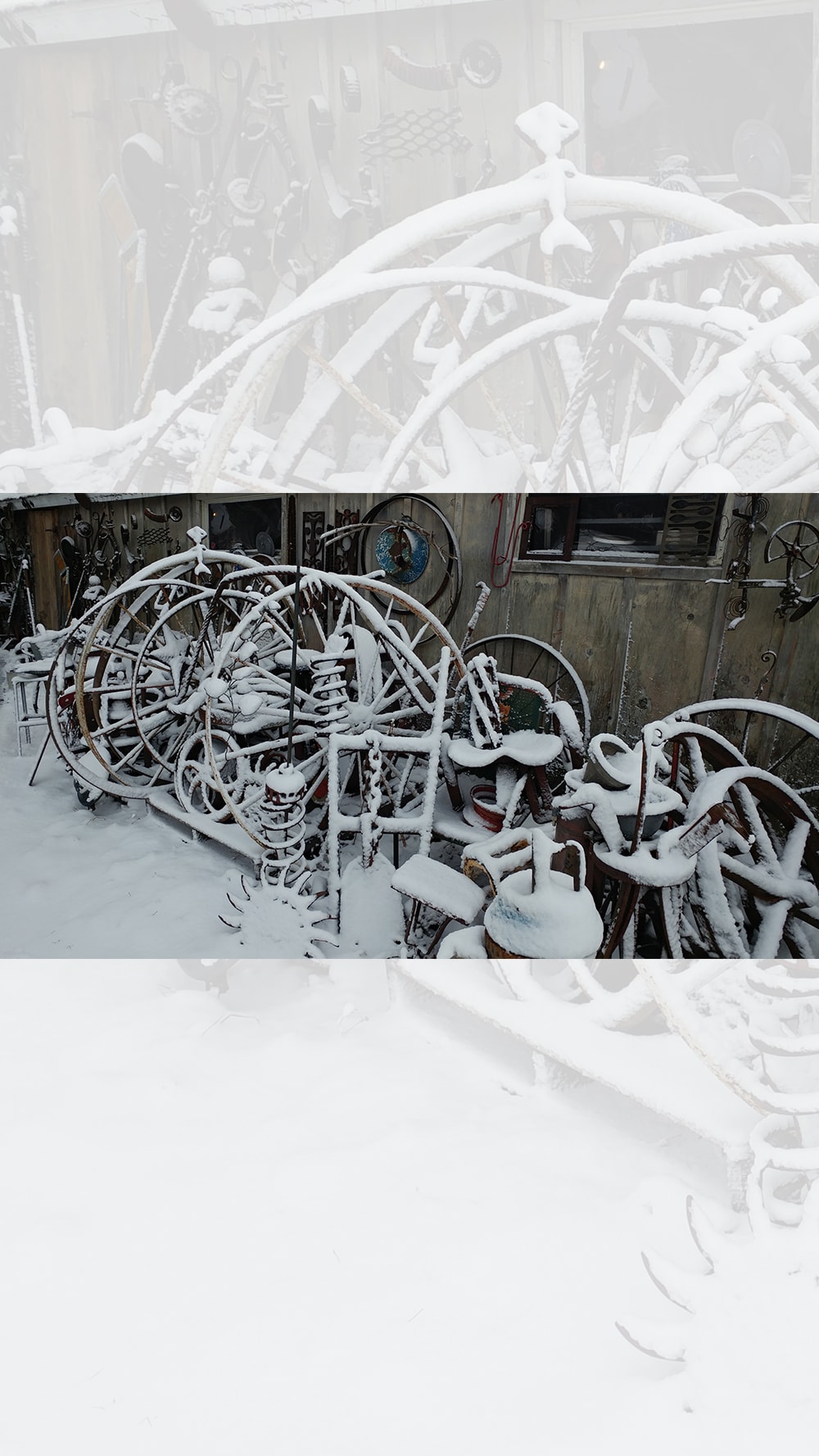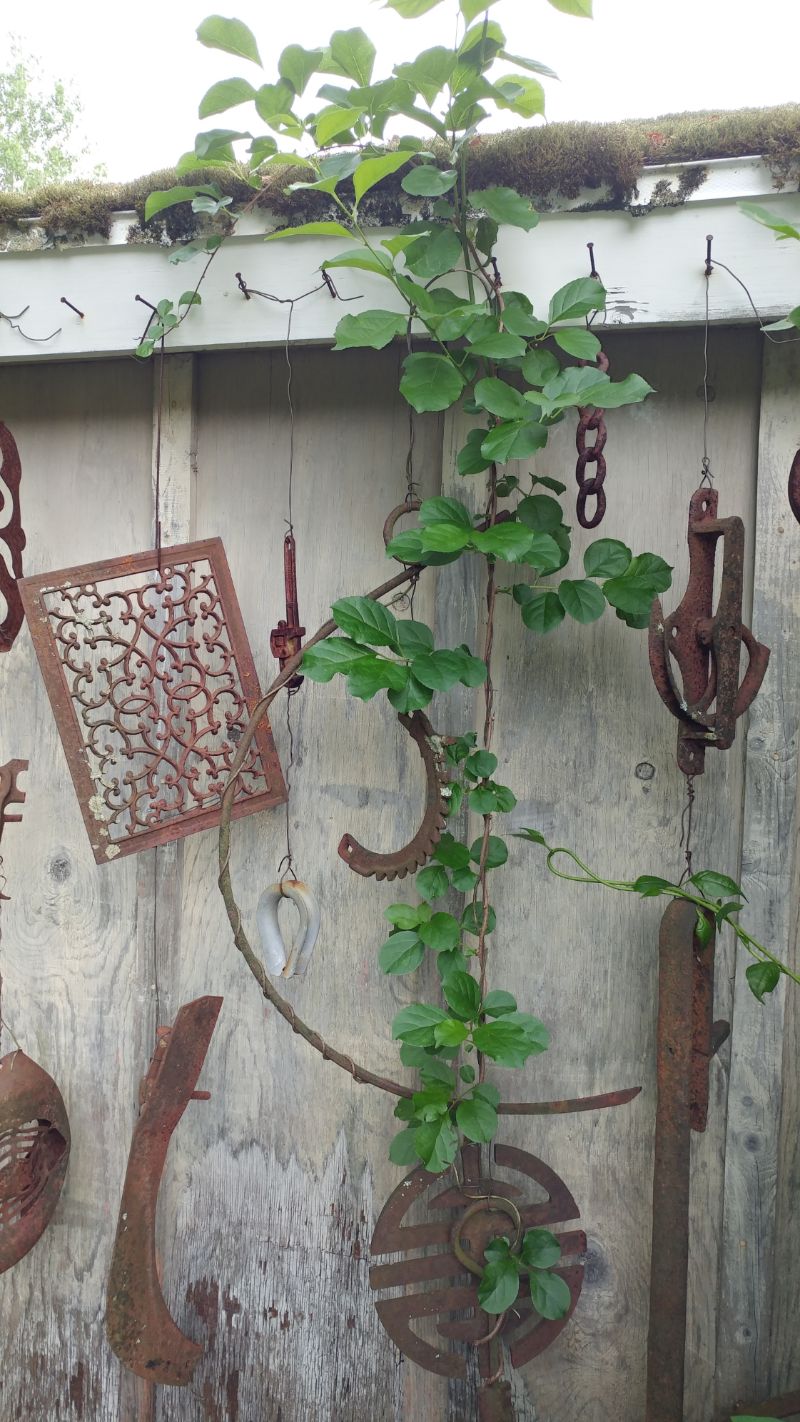 Immersed in Metal and Nature
METAL HEAVEN
John surrounds himself with metal to inspire his art. He lines the path with it, rearranges his treasures periodically, and leaves them all outside to interact with the natural elements. He especially loves how the winter snows accentuate the various lines and contours, and he relishes how beautifully the green grasses and weeds compliment the red rusty tones. He always sees a new shape or gets a new perspective coming and going from the shop. Visitors smile at the piles as they pick out familiar objects and see them in a fresh, new light. Come visit and savor the scene and see where John's projects and inspirations take root!